Premium Reusable Linen Masks
Gracing us with her Superior Softness, her Undisputed Strength, her Top-notch Permeability and her Subtle yet unmistakable whiff of Finess is – Linen, The Goddess of Luxury.
Sure, we got a little excited. But do you blame us?  
Linen is derived naturally from a Flax plant. It is soft as silk. It endures an intensive process of combing and weaving that makes it strong & long-lasting. Linen stands the test of time and weather.
Our Premium Linen Masks offer all the goodness and richness of the luxurious fabric, equipped with our state-of-the-art filtration technology. 
When it comes to our masks, our 'Excalibur' is Linen, The Goddess of Luxury herself.
That is how much we are in love with, and in awe of our Linen Masks. We hope it does the trick for you too.
Long live, Linen!

Explore Collection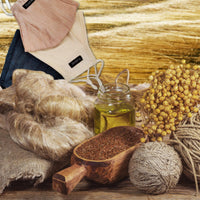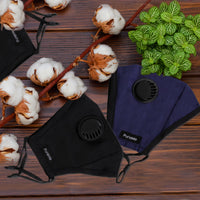 Premium Reusable Cotton Masks
Behold - The king of Fibre! The workhorse of fabric. The 'boll' of happiness. There are many reasons why Cotton has been with us since as far back as 450BC.

So, who are we to challenge nature, when nature herself has provided us with it's incredible bounty?

These are our premium masks made of 100% natural cotton - they grow with nature, protect you from infectants and pollutants, get softer and more comfortable with every wash, and at the end of it all - they disintegrate right back to Mother Earth.

Just like it's always meant to be.

Cotton kickstarted our civilizations. Now, thousands of years later, we still don't seem to get enough of it. Do we?

Join us as we, once again, lean on to the reliable roots of Cotton with our cool and classy Premium Reusable Cotton Masks.

Explore Collection
Kids Masks- Reusable Cotton
Layers of safety behind a blanket of fun -- that is the philosophy behind our masks for your little innocent and playful souls.

A multitude of vibrant, hand-drawn illustrations. Perfect size, and adjustable to further enhance comfort. Our state-of-the-art PureMe Kids masks are tailored for the ever-growing and ever-curious minds and lives of the little ones.

For those daily adventures outside - we have crafted our adorable Kids Collection and equipped it with our signature 9-Layer Filtration System. These bright and colourful Masks are designed to keep them safe as they go out and take the world by storm.

It's like adding a little Brocolli to their favourite paratha or Palak in Pizza. Don't you think?

A perfect mix of security and mischief!

Explore Collection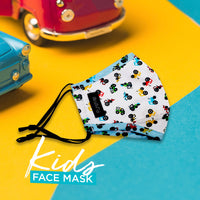 Introducing PureMe Linen Reusable
Masks with Replaceable Filters
Customer Reviews
I bought myself a Linen mask, and it really is the best one out there. I started with one but I can't get enough because they all look so stylistically made.

Gaurav, Mumbai
It's like finding the right pair of shoes. I tried dozens of masks from local stores before finally coming across PureMe. These masks are comfortable, with everything that you need in a mask and most importantly they last.

Abhinav, Bangalore
As a mother of four kids, there's never an end to the daily chores. And although staying at home and going down only when necessary is the protocol we all adopt -- when we do have to go down, we feel at ease because of these masks. My husband bought one each for both of us to try and we tried it for a few days before buying some more for our kids. You guys are doing a brilliant job!

Jyoti, Hyderabad
I got these for my parents. They stay alone and I'm constantly worried about them. They do have to go down once in a while for a quick market run. And that always always worries me. So, I got them these masks and they can't stop telling me how comfortable the fabric is. They are getting old and are very particular about certain things. But to see them taking precaution while feeling comfortable puts me to ease. And dare I say, those ear straps are just divine! Thank you, Pureme.

Rahil, Lucknow
As an interior designer there are times when I cannot avoid some field trips and when they come, I feel not only ready for it but also classy. There's always a colour that matches my outfit. Needless to say, I think I'm a Pureme mask hoarder.

Suhasini, Tamil Nadu
I was one who avoided going outside because I was too fed up to wear a mask everywhere. I came across PureMe on Instagram and bought their Aloe Vera masks – it's so light and comfortable it feels like I am not wearing a mask at all.

Rohini, Bhubaneshwar
My brother rides his bike to his work everyday, I gifted him a PureMe mask for his birthday, and he swears by it. He used to suffer from frequent allergies due to dust which have improved a lot now!

Sohail, Indore
My wife was extremely conscious about spoiling her Diwali outfit with a mask. I got the idea from Instagram and gifted her a mask which matched her outfit, she loves her new look!

Rohit, Arunachal Pradesh
I always had a problem of Face Masks making me touch my face more instead of preventing me from touching it. This was because I was always adjusting and readjusting the mask. However, the nose-bridge on the PureMe mask is so comfortable and makes this mask a perfect fit! I can finally say I found a mask that works!

Kishore, Trivandrum